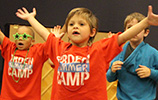 Acting Process and Performance 8 Week Class: Grades 9-12
Arden Drama School
– Saturday, January 13, 2024, 3:00 PM
Saturdays - 3:00pm to 5:00pm
January 13 - March 2, 2024

Use scenes and monologues from classic and contemporary work to explore acting objectives and physical and vocal techniques to bring a character to life. Students will learn tools and tactics to create specific, well-rounded characters; how to shape a dynamic scene or monologue; and the vocabulary of a stage actor. The class will culminate in a showcase performance for family and friends.
Arden Drama School

Hamilton Family Arts Center 62 North 2nd Street

US-PA

19106
US