2017/18 Season:  Multi
-Show Subscriptions

Select your shows, from 3 to all 6 and build your dream season! Join us as a subscriber to lock into the lowest prices we'll offer.
 
6-Show Subscriptions
5-Show Subscriptions
4-Show Subscriptions
3-Show Subscriptions
Our 2017/18 Season includes:
Cabaret
Book by Joe Masteroff
Based on the play by John Van Druten and
Stories by Christopher Isherwood
Music by John Kander
Lyrics by Fred Ebb
Originally Co-directed and Choreographed by Rob Marshall and Directed by Sam Mendes
Directed by Matthew Decker
September 21 - October 22, 2017
On the F. Otto Haas Stage
"There was a cabaret, and there was a Master-of-Ceremonies and there was a city called Berlin in a country called Germany. It was the end of the world...and I was dancing with Sally Bowles and we were both asleep…"
Welcome to the Kit Kat Club, the hottest nightspot in 1929's seedy and sinful Berlin. American writer Cliff Bradshaw travels to Germany in search of inspiration and pleasure, and finds both in nightclub performer Sally Bowles. However, outside the club's doors, the Nazis' impending rise to power threatens to splinter their decadent lifestyle. Featuring one of Broadway's most memorable scores,
Cabaret
kicks off the Arden's 30th Anniversary Season.
TouchTones
Story by Michael Hollinger & Robert Maggio 
Book & lyrics by Michael Hollinger 
Music by Robert Maggio
Directed by Emmanuelle Delpech
October 19 - December 3, 2017
On the Arcadia Stage
A new musical comedy about love, sex, and the fantasy at the other end of the line…
It's 1999, the cusp of a new millennium, and technology promises intimacy as well as anonymity. Christine and her fiancé Justin wander into this titillating world of role-play, secret delights, and shifting identities; but who will they be when they come out again? (And will they recognize themselves?)
Every Brilliant Thing
By Duncan Macmillan with Jonny Donahoe
Featuring Scott Greer
November 9 - December 3, 2017
The Bob and Selma Horan Studio Theatre at the Hamilton Family Arts Center
"You're six years old. Mum's in hospital. Dad says she's 'done something wrong.' She finds it hard to be happy. So you start to make a list of everything that's brilliant about the world.  Everything that's worth living for. 1. Ice cream. 2...."
So begins a heartwarming and insightful one-person play that is unlike anything you've seen before.  Arden favorite Scott Greer leads audiences through a remarkable journey that truly examines what makes life worth living - and the power of theatre to bring people together. Join us for the Philadelphia premiere of this international, off-Broadway hit as the inaugural production in the Arden's intimate Hamilton Family Arts Center Studio Theatre.
A Doll's House
By Henrik Ibsen
Directed by Terrence J. Nolen
January 11 - February 25, 2018
On the Arcadia Stage
Nora and Torvald are living their dream life with the brightest of futures. And then a long-buried secret rises to the surface, and Nora must choose between outward perfection and inner truth.  Still shockingly relevant, this revolutionary classic will be brought to life in the intimacy of the Arcadia Stage.
Toni Morrison's The Bluest Eye
Adapted by Lydia R. Diamond
Directed by Raelle Myrick-Hodges
March 1 - April 1, 2018
On the F. Otto Haas Stage
Pecola Breedlove, a young black girl growing up in the 1940's, wants nothing more than to be loved. Confronting turmoil at home, she prays for Shirley Temple's blue eyes, believing their beauty is the only thing standing between her and the happiness of the white girls at school. This powerful adaptation explores the destructive power of racism and the strength of a community attempting to embrace an era of change.
Fun Home
Music by Jeanine Tesori
Book and Lyrics by Lisa Kron
Based on the Graphic Novel by Alison Bechdel
Directed by Terrence J. Nolen
May 17 - June 17, 2018
On the F. Otto Haas Stage
Hailed as one of Broadway's most original musicals and winner of 5 Tony Awards,
Fun Home
is a groundbreaking story inspired by Alison Bechdel's best-selling graphic memoir. After the death of her father, Alison plunges into her past to uncover the many mysteries 
of her childhood growing up at the family funeral home in Central Pennsylvania. Featuring 
a brilliant score by Jeanine Tesori 
(Caroline, or Change)
,
Fun Home
is a refreshingly 
honest, moving new musical about seeing your parents through grown-up eyes.
6-Show Subscriptions
5-Show Subscriptions
4-Show Subscriptions
3-Show Subscriptions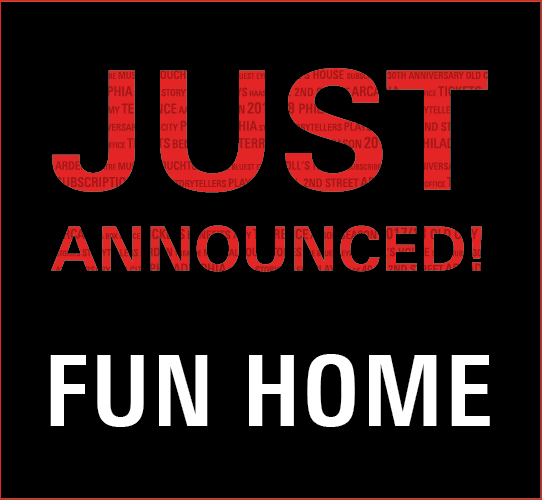 Exclusive Benefits!
Substantial savings.

The best choice of seats.

Easy ticket exchanges.

Parking discounts.

Dining discounts.

Ticket discounts.

Free ticket insurance.

Insider Information.