2019/20 Season:  Leap of Faith
 Subscriptions

Join us for seven plays next season – without knowing all the titles – and lock in the lowest prices we'll offer!

7-Show Subscriptions are the only way to include both productions at the Bob and Selma Horan Studio Theatre!

 5-Show Subscriptions  7-Show Subscriptions
Now through March 3rd:
You are invited to take the "Leap of Faith". What does this mean?
"Leap of Faith" offers the biggest savings for subscription! Up to $20 additionally off of the already discounted subscription prices. This is by far the best savings that we offer!
We promise that you will experience the engaging, entertaining, high-quality productions that you have come to expect from the Arden. However, you will not know the show titles just yet!
You can either renew for a 5 or 7 show subscription package – the smaller packages are not available during in this offer. Why? Part of taking that "Leap" means that you're committing to the full season, and it is this commitment that allows us to be artistically bold!
In addition, subscribers receive priority seating, and easy ticket exchange privileges.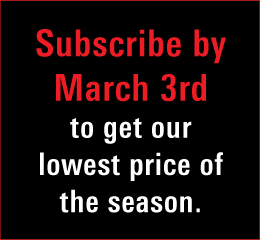 Exclusive Benefits!
Substantial savings.

The best choice of seats.

Easy ticket exchanges.

Parking discounts.

Dining discounts.

Ticket discounts.

Free ticket insurance.

Insider Information.